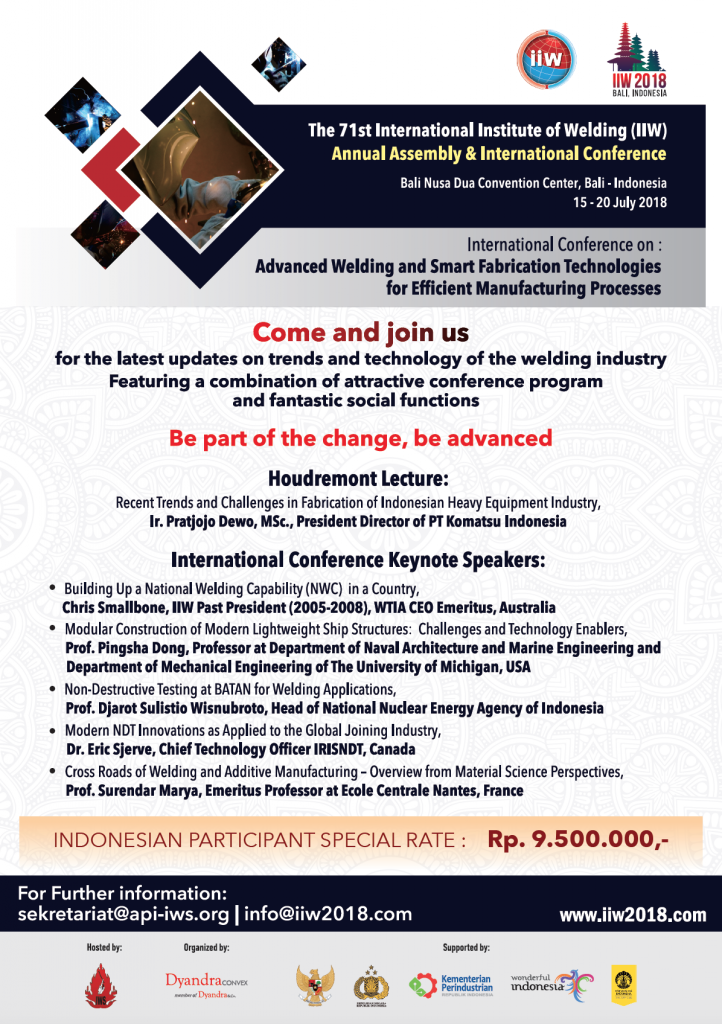 Indonesia and South East Asia is the largest archipelago region in the world. With a population of more than 18.000 islands, the area is known for its natural resources, trading and economic hubs, as well as cultural tourism. Therefore, Advanced Welding and Smart Fabrication Technologies for Efficient Manufacturing Processes.
The IIW 2018 International Conference, organized by Indonesian Welding Society will take place on 15-20 July 2018 at Bali Nusa Dua Convention Center, Bali – Indonesia. In conjunction with the IIW General Annual Assembly, the conference aims provide a forum for networking and knowledge exchange among scientists, researchers, and industry related to welding and joining.
The following topics will be covered during the conference:
Advanced Welding Processes and Technologies

Welding Automation and Simulations

Design and Fabrication

Inspection and Quality Assurance of Welded Products

Corrosion and Surface Protection of Welding

Personnel Development and Qualifications

Bussiness Aspect of Welding

Special Sessions in Maritime, Transportation and Offshore Industries
Let's rise and play a leading part on the world stage welding challenges and to commit in staging a memorable gathering of this caliber for many years to come. We are confident that this annual assembly and conference will contribute to the expectations of all of us as you will take this to interact and develop international cooperation, and also to be part of the network.
We wish all delegates the most fruitful and eventful event! please download the brochure through this link.

For more information, please follow this link.